About TERI SAS
TERI SAS commits itself to academic excellence and provides an environment that will encourage both personal and intellectual growth through teaching, creating and sharing knowledge.


Vision
---
To accelerate the transition towards a more sustainable world through the creation of knowledge and human capacity. To be a globally recognized University in the sphere of sustainability studies.
Values
---
The University, in the design of its reaching-learning environment, holds dear the following values which it would expect its faculty members to preserve and strengthern
1. To instill the knowledge of, and desire for, holistic approaches to problem solving.
2. To empower the commitment to environmental protection and social justice.
3. To constructively engage in deliberative processes.
4. To provide access to the best knowledge resources on sustainability thinking.
Mission
---
1. To create new knowledge and contribute to the writings and discourse on sustainability issues.
2. To design and deliver academic programmes, training and research on sustainability issues relevant to all streams of life and across age groups, assimilating the latest science and evidence.
---
TERI School of Advanced Studies was set up as a Trust by TERI (The Energy and Resources Institute) - a not-for-profit, independent research institute recognized globally for its contribution to scientific and policy research in the realms of energy, environment, and sustainable development in 1998. In 1999, the TERI School of Advanced Studies was granted the 'Deemed to be University' status by the University Grants Commission (UGC) and notified vide the Ministry of Human Resources Development, Department of Education, Government of India, notification no. F.9/19/95-U-3, dated October 5, 1999.

The object of the TERI SAS is to build capacity around various themes of sustainable development adopting an inter-disciplinary approach and incorporating the most contemporary, research-based evidence into the curriculum. Since its inception, the TERI SAS has offered not just world-class education, but also an environment that enables its students to develop fresh perspective in their subject areas. Beyond the academic programmes, the deemed University is actively reaching out to school and college students as also to mid-career professionals to sensitize them towards the environment and sustainable development in a systemic, solutions-oriented manner.

The deemed University started functioning from its 'green campus', located in Vasant Kunj, in 2008 and today offers a dozen Masters programmes and has nearly 200 PhD students enrolled. It has started work on developing two new campuses at Hyderabad, Telangana in the south of India and at Guwahati in the north-eastern state of Assam and hopes to start offering academic programmes from these campuses by 2019.
Objectives
The University was established with the following objectives:
To provide for institution and training in Energy Studies, Biosciences, Environmental Studies, Public Policy and other such branches of learning as it may deem fit.
To provide for research and for the advancement and dissemination of knowledge.
To do all such other acts and things as may be necessary or desirable to further the objective of the School.
These may include, inter alia
Establishment of and participation in collaborative activities with other educational institutions in and outside the country.
To sponsor and organize teaching and training programmes, conferences and seminars on subjects of theoretical or practical relevance to the courses of study.
---
---
Strategic Document
University Governance

Board of Management
Chairman
Dr Leena Srivastava
Vice-Chancellor


Deans
Dr Prateek Sharma
Dr Arun Kansal
Three eminent Academicians nominated by Chancellor
Prof. Dipankar Gupta
Former Professor in the Centre for the study of social systems, JNU
Dr. Ashok Khosla
Chairman, Development Alternatives
Prof. Sachin Chaturvedi
Director General, Research and Information System for Developing Countries(RIS)

Nominee of Sponsoring Society
Mr.Inder Walia
Former Group Director (HR), Bharti Enterprises
Ms.Anita Arjandas
MD & CEO, Mahindra Lifespace Developers Ltd.
Mr.Ishteyaque Amjad
Vice President(Corporate Affairs),Coca Cola India Pvt. Ltd.
Dr. Alok Adholeya
Honorary Advisor, Sustainable Agriculture Division, TERI(Co. Opted)
Two teachers
(from Prof., Asso. Prof)
Dr. Ramakrishnam Sitaraman
Dr. Vishnu Konoorayar
One teacher of the rank of Asst. Prof
Dr. Fawzia Tarannum
Controller of Examination
Dr. Seema Sangita
Registrar
Capt. Pradeep Kumar Padhy (Retd.)


The Advisory Committee
Chairman of the Committee & Nominee of the UGC
Shri Manoj Gaur
Vice Chancellor
Prof Bhavik R Bakshi
Deans of Faculties
Dr Arabinda Mishra
Dean, Faculty of Policy & Planning
Dr Prateek Sharma
Heads of Centres/ Departments
Dr V V N Kishore
Dr P K Joshi
Dr Pallavolu Maheswara Reddy
Dr Suneel Pandey
Dr Priya Bhagowalia
Dr Sitaraman Ramakrishnan
Registrar
Capt. Pradeep Kumar Padhy (Retd.)


The Academic Council
Dr Leena Srivastava - Chairperson
Vice Chancellor
Deans
Dr Prateek Sharma
Dr Arun Kansal
Heads of the Departments
Dr Sapna Narula
Department of Business and Sustainability
Dr Atul Kumar
Department of Energy & Environment
Dr Sudipta Chatterjee
Department of Natural Resources
Dr Chaithanya Madhurantakam
Department of Biotechnology
Dr. Smriti Das
Department of Policy Studies
Dr. Vishnu Konoorayar
Centre for Post Graduate Legal Studies
Professors
Prof Manipadma Datta
Prof Sitaraman Ramakrishnam
Prof Anandita Singh
Prof Shaleen Singhal
Two Associate Professors from Departments
Dr Sukanya Das
Dr Vinay S. Prasad Sinha
Two Assistant Professors from the department by rotation of seniority
Dr Gaurav
Dr Akash Sondhi
Three persons nominated by the Vice Chancellor

Dr Malathi Lakshmikumaran
Prof T C Kandpal
Prof Rakesh Mehrotra
Co-opted Members
Dr Anubha Kaushik
Dr Vivek Suneja
Dr J K Garg
Secretary
Capt. Pradeep Kumar Padhy (Retd.)


The Finance Committee
Dr Leena Srivastava - Chairman
Pro Vice-Chancellor
Nominees of the Trust/Society
Mr. Puneet Chandra, Sr. Director-Transformation, TERI
Two nominees of Board of Management
Prof Manipadma Datta
Dr Smriti Das (Member BoM)
Secretary
Mr Dhanraj Singh, Finance Officer
Registrar
Capt. Pradeep Kumar Padhy (Retd.)


The Planning and Monitoring Board
Chairperson
Dr Leena Srivastava
Vice-Chancellor



Deans
Dr Prateek Sharma
Dr Arun Kansal
HoDs
Dr Sapna Narula
Dr Sudipta Chatterjee
Dr Suresh Jain
Dr. Smriti Das
Dr Chaintanya Madhurantakam
Outside Eminent Experts
Dr Lakshmi Raghupathi
Prof M N Murty
Nominee of the UGC
Prof Vir Singh, Dept of Physics
IIT, Roorkee
Secretary
Capt. Pradeep Kumar Padhy (Retd.), Registrar


The Fee Committee
Justice A K Srivastava - Chairperson
Secretary General, Association of Retired Judges of Supreme Court and High Court of India

Dr Leena Srivastava
Vice-Chancellor



Secretary
Mr Dhanraj Singh
Finance Officer
Registrar
Capt. Pradeep Kumar Padhy (Retd.)

About our logo
The emblem signifies what TERI SAS stands for
'Looking for glory through reaching new horizons'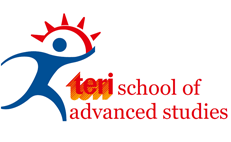 Inauguration by President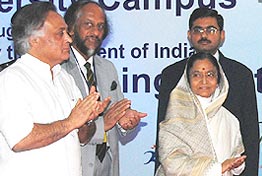 An exemplary example of combining traditional values of conservation and preservation of energy while building a state of the art campus.

Former President of India
Smt. Pratibha Devisingh Patil
Meet our Chancellor

Dr. Shailesh Nayak(born August 21, 1953), a PhD in Geology from M. S. University of Baroda (1980) is a versatile person with a distinguished career...Read more

Meet our Vice-Chancellor

Dr Srivastava has over thirty years of experience in the fields of energy and environment, including climate change, policy and economics...Read more



The figure of a running student symbolises his quest for knowledge with his arm reaching out towards a rising sun. The rising sun stands for hopes, aspirations and enlightenment which would go along with new and innovative research in an institution of higher education.

The dark blue colour signifies seriousness and tranquillity, whilst the bright orange and red stand for the enthusiasm and the fire within - qualities which students of TERI SAS will be imbibed with.

Along with the lofty ideals which the university stands for, the use of capital letters has been avoided in the emblem to signify modesty and humility which were the hallmark of ancient Indian sages and rishis.