Venue: TERI School of Advanced Studies
Registration opens: 21 April, 2023
Last Date of Registration: 1 July, 2023
Management Development Programme on
Diversity, and Inclusion at Workplace: Building a Sustainable Competitive Advantage
Programme Overview
Corporations identified as more diverse and inclusive are 35% more likely to outperform their competitors. - McKinsey

In 2022, the Diversity and Inclusion Leaders of India were Accenture, MasterCard and Abbott, all of whom were also top performers in their respective sectors.

The importance of 'Diversity, Inclusion, and Belongingness' has taken the centre stage after the pandemic. Hybrid work culture is here to stay and the workforce is in a better bargaining position than before. Therefore, it is mandatory for every organisation to reboot their 'Diversity, Inclusion & Belongingness' efforts at work tangibly to make their workforce included, empowered, supported and respected which would ultimately lead to good reputation and productivity.

It has become impossible to deny the importance of belonging in recent years. The pandemic and the Great Resignation have also made creating a culture of belonging more critical than ever – not just for employee well-being and retention but for overall business success.

Diversity, inclusion and belongingness as a concept and practice have become the core pillars of sustaining corporate reputation.

In this programme, professionals will learn to implement a diversity policy, foster an inclusive culture and integrate diversity into people management. Grab your chance of learning how to draft a strategic plan to support Diversity and Inclusion in your workplace and manage a diverse workforce.

Diversity is being invited to the party, inclusion is being asked to dance and belonging is dancing like nobody's watching, because that's how free you feel to be yourself.

~ Tony Bond, Executive VP, Chief Diversity & Innovation Officer, Great Place to Work
• Diverse companies are 70% more likely to capture new markets. (HBR)
• Diverse teams are 87% better at making decisions. (People Management)
• Diverse management teams lead to 19% higher revenue. (BCG)

Did You Know?

• 69% of executives rate Diversity and Inclusion as an important issue. (Glassdoor)
• According to a Report, 83% of young workers will quit companies without a Diversity and Inclusion policy.
• Diverse companies enjoy 2.5 times higher cash flow per employee.
• Diverse management has been shown to increase revenue by 19 percent.

The "Great Place to Work" Research, 2022 reveals that when employees experience belonging in the workplace they are:

• 3 times more likely to look forward to coming to work
• 3 times more likely to say their workplace is fun
• 9 times more likely to believe people are treated fairly regardless of their race
• 5 times more likely to want to stay at their company a long time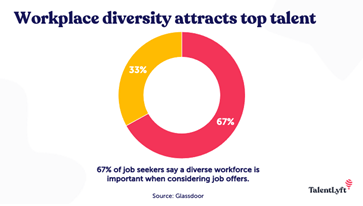 PROGRAMME OBJECTIVES


Our programme will help the participants:



Understand how to integrate Diversity into people management and how to approach and address biases confidently
Stimulate new ideas and implement Diversity initiatives to build an inclusive team and co-creative environment within their organisation
Discover opportunities to cultivate and sustain Diversity and Inclusion in their workplace and beyond
Leverage relevant case studies to create a strategic plan to manage a diverse workforce

PROGRAMME OUTCOMES:


Upon completing the programme, participants shall be equipped to:



Lead 'diversity' efforts effectively and develop skills to foster 'belongingness' in their team to unleash their true potential.
Navigate the issue of increased attrition and strategize on how to retain and attract top talent.
Integrate Diversity, Inclusion and Belongingness into HR activities like hiring, promotions, trainings and performance evaluations
Incorporate 'belongingness' into your organisation's core values and HR management
Programme Director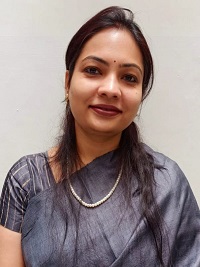 Dr Moumita Acharyya
Dr Moumita Acharyya is a Doctorate in Business Management from FMS, University of Delhi and Postgraduate from BITS, Mesra, Ranchi. She has qualified UGC NET in 2010. Her Ph.D. is in the area of CSR and HRM. She has over 16 years of experience in the field of HR, Academics, Education and Training. Her areas of expertise include Human Resource Management, Employee Relations and Organizational Behavior. She has organized many conferences, summits, MDPs, Trainings and panel discussions on futuristic topics. Dr. Moumita has been training and consulting educators and corporates in Change management, Team building, Negotiation skills, People management strategies, Interpersonal skills and Professional excellence. Her papers have been published in national and international journals. Socially responsible HRM, sustainable innovation strategies, employee commitment and organizational downsizing are her current areas of research.
She is a recipient of the prestigious Dr. S. Radhakrishnan post-doctoral fellowship in Humanities and Social Sciences. She is also a certified POSH trainer and brings along rich experience in teaching, training and research. She is currently associated with TERI SAS as faculty in the Department of Business Sustainability. .
Programme USPs
Research-driven tools to measure DI&B in your organisation
- Recognition of existing diversity indices as the starting point for strategizing the roadmap ahead

Customized measures to implement diversity practices
- Organisation-specific diversity needs to be identified and custom strategies to overcome them to be devised in consultation with trainers

Industry-Recognised DI&B Certification for your organisation
- On training completion, an evaluative questionnaire to be attempted by participants to reinforce the learnings and provide certification
Who Should Enrol?
Business Leaders
Team Leaders
HR Heads
Mid-Level Managers
CHRO and CEOs
Senior Leadership-HR
Academia/Students
NGOs
IMPORTANT DATES
REGISTRATION BEGINS
21st April, 2023
LAST DATE FOR REGISTRATION
1st July, 2023
Event Date
8th - 9th July, 2023
Programme Coverage
Day 1
8th July, 2023
Time:
10:00 am to 5:00 pm
Day
Saturday
Day 1
Understanding Diversity- The Diagnostic Stage
• Demystifying Implicit Bias and Blind Spots

~ Human & Technological Bias
~ Hiring, Workplace Inclusion & Performance Evaluation – Biases & Barriers

• Diversity, Inclusion and Belongingness Assessment

~Differentiating 'Diversity' from 'Inclusion'
~ Surface vs. Deep Diversity

Emotional Intelligence
• Learn the key skill of leading diversity & inclusion
• Introduction to self-awareness and empathy - core to diversity & inclusion leadership strategy

Stereotypes and biases within organizations
• Build more insightful awareness in the workplace around biases and systematic discrimination against any group of people.


Day 2
9th July, 2023
Time:
10:00 am to 5:00 pm
Day
Sunday
Day 2
Understand your organization
• Curating Best Practices around Diversity and Inclusion for Your Organisation

~ Discover what D&I can look like at your Organisation
~ Improve Engagement to create Belongingness

Recruitment and Retention

~Differentiating 'Diversity' from 'Inclusion'
~ Surface vs. Deep Diversity

D&I Strategies for wider reach of the organization
• Align D&I mission with your CSR goals and employer branding
Sustainable Business Model

• Design an all-encompassing sustainability model with D&I as long-term focus
• Shifting your mindset from understanding diversity & inclusion within & around you to creating action to dive a more diverse & inclusive workplace
• Discover what diversity & inclusion can look like at your organization.


Payment
Registration Fees: INR 10,000 + 18% GST

CLICK HERE for registration
......

Contact Us

Ms Sonika Goyal
Email id : sonika.goyal@terisas.ac.in


TERI School of Advanced Studies
10, Institutional Area,
Vasant Kunj,
New Delhi - 110070
Contact No: 71800222